Table of Contents
B-tox and fillers are some of the most notable injectable beauty procedures that are widely used in today's times due to their efficiency and cost-effective properties. These procedures are known to effectively mitigate the signs of ageing and add volume to the face. However, there are existing differences between B-tox and fillers because of their different uses and focuses, along with significant factors to be taken into account by patients before contemplating either procedure.
What is B-tox?
So, what exactly is B-tox? B-tox is a bacterially derived purified form of Botulinum Toxin, which has been considered to be one of the safest options that helps get rid of wrinkles. For a long time, experts have used B-tox widely because it is one of the most reliable treatments reliable. It works by activating the production of acetylcholine, an organic chemical that is accountable for specific muscle contractions and paralysis. As a result, it aids in flattening fine lines as well as targeting diminishing and eliminating wrinkles (Mayo Clinic, 2023). This FDA-approved toxin-based treatment utilizes its strategic injection around the face that helps reduce the appearance of pre-existing fine lines that may eventually turn into wrinkles over time (Sheen and Clarkson, 2020).


In addition to its cosmetic procedures, it can be used not only for reducing wrinkles and fine lines but also for alleviating chronic pain, migraines, stiffness and excessive perspiration. Currently, many brands have earned success in the market including B-tox®, Xeomin, Nobota, and Dysport. But when it comes to brands and specific goals, it is important for you to consult certified professionals to figure out the right dosage and treatment plants you may need.
What are Fillers?
Fillers are always linked with B-tox, however, unlike B-tox, they have different functions and benefits. Fillers, injectable substances, have been utilized to enhance facial features such as lips and cheeks by augmenting volume in specific facial areas. Fillers are composed of hyaluronic acid, which is the chemical produced in the human body that aids the preservation of skin moisture and elasticity. Hyaluronic-based fillers often come in the form of gel-like form which is administered via injection, which often entails a painless feeling and typically requires a duration of thirty minutes for the procedure (Hulett, 2023).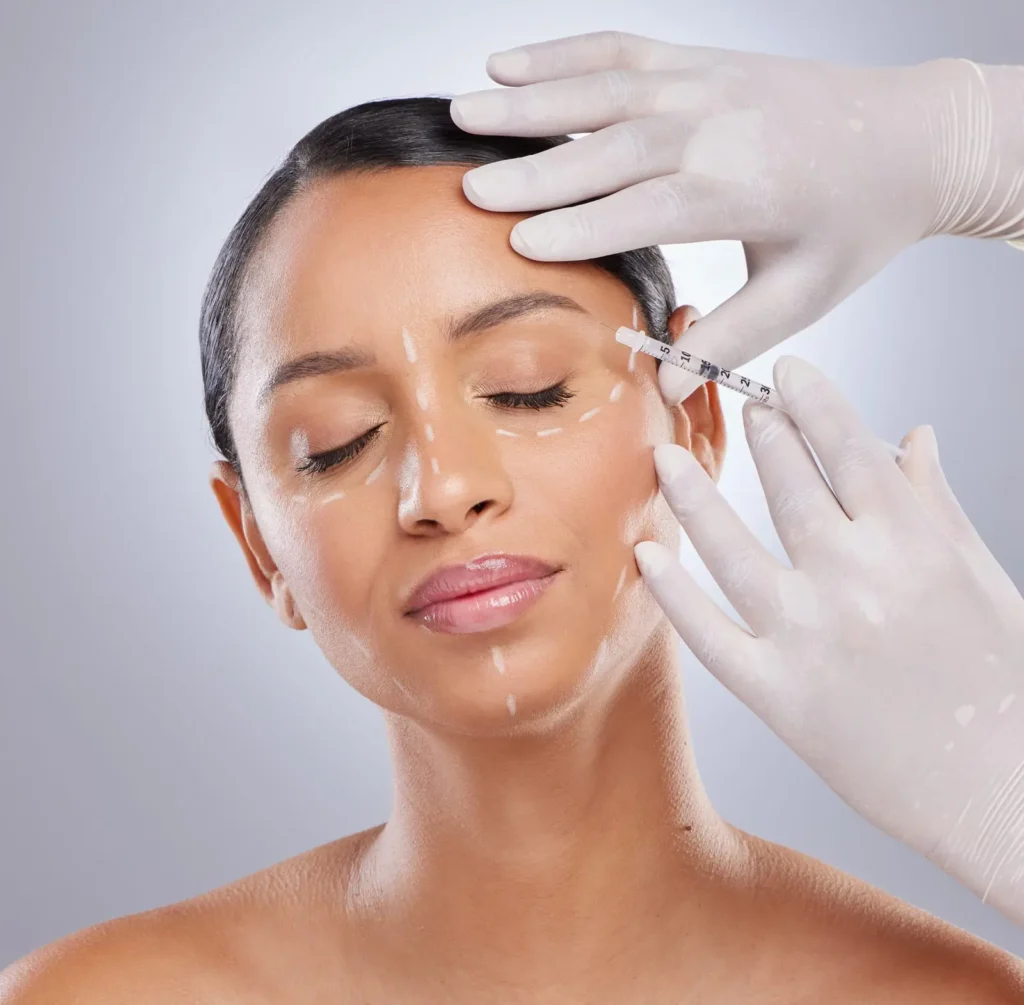 Usually, fillers often give you temporary results. There are several different brands including Juvederm, Restylane, and Boletero (Isaac, 2023). Because it is made up of hyaluronic acid, fillers can be dissolved over time on their own due to their reaction and lifespans. In most cases, the duration of fillers takes about 6 to 24 months. However, longevity is different from person to person. You should also consult the doctor about specific requirements and expectations in order to determine which filler can serve your purpose and is right for you.
Key Differences between B-tox and Fillers
How does B-tox differ from fillers? When looking at both treatments, it is noteworthy to address the differences between each so that you can be able to find the correct procedures to target your requirements. For example, B-tox works by paralyzing muscles to retain wrinkles and fine lines, which is commonly used among patients who are in their late twenties and more (Cleveland Clinic, 2023; Sheen and Clarkson, 2020). Fillers, on the other hand, are mostly used to restore or augment the volume of facial features, especially on undereye, cheeks, jawlines, and lip areas (LT Men's Clinic).
Both B-tox and Fillers may target wrinkles, however, for B-tox, it usually used for treating dynamic wrinkles such as on the forehead lines or smile lines as well as helping to stop the sweat in the underarms. However, the effects often do not come instantly as it usually takes a week to see changes. The effect of B-tox lasts approximately 3-6 months. Hence, it is recommended to undergo continual treatment in order to attain and maintain optimal results (St. James, 2023).
However, fillers are used for reducing deep wrinkles which are often visible or create volumes to other parts of the face such as augmenting lips, cheeks or defining jawlines. Moreover, it can help to treat the appearance of recessed scars. The duration of fillers is also temporary; however, it can take about the same lifespan as B-tox depending on the effectiveness of the procedures.
Between B-tox and Fillers: What should I choose?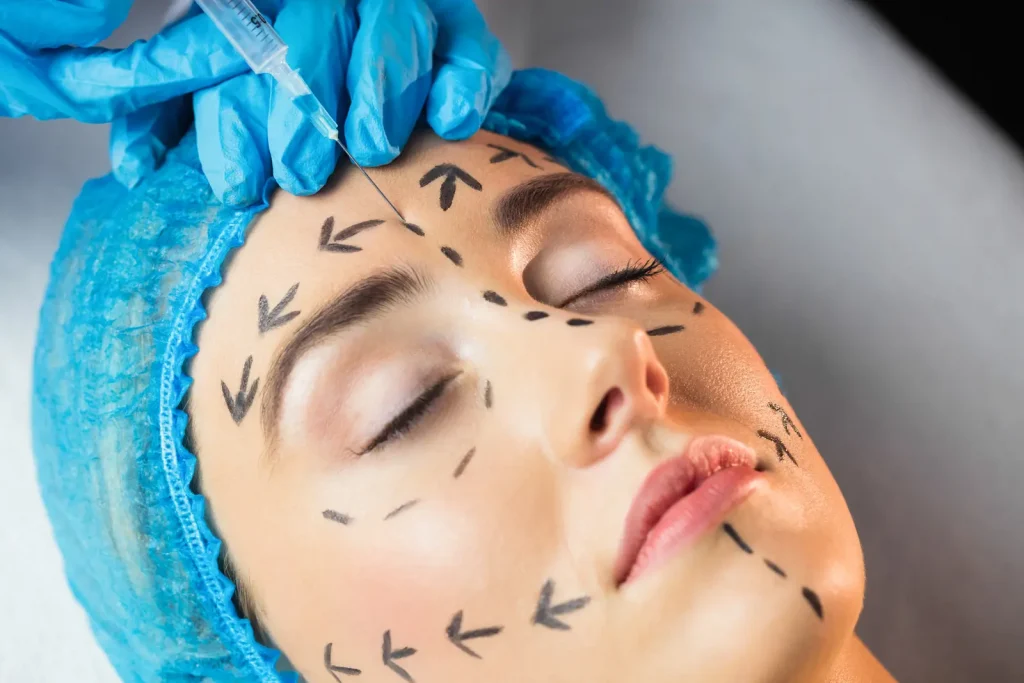 So, as you learned about the difference between both treatments, it can be still confusing when choosing the right procedures for treating concerns on the face. However, you have to bear in mind that it also depends on your desired outcome. If you have concerns over fine lines and wrinkles, B-tox may be a more suitable procedure to undertake. On the other hand, if you are looking to enhance your facial features or restore volumes on specific face areas, fillers may be a better choice (Yale Medicine, 2022; LT Men's Health, 2023).
Combining B-tox and Fillers
One of the most asked questions by patients is: "Can you use B-tox and fillers at the same time? The answer is that incorporating B-tox and fillers in your procedures can be beneficial if you plan on treating different areas of the face. This can help address multiple areas of the face accordingly as well as provide the desirable results if you plan on either reducing dynamic wrinkles or giving volumes on specific facial parts.
Additionally, concurrent use of B-tox and fillers can prolong the time until the next treatment is necessary, as the degradation of hyaluronic acid-based fillers can be slowed, thereby increasing the duration until the next renewal procedure (Grant, 2017).
Now you may get some ideas about both treatments. However, one thing that is similar is that B-tox and fillers are considered safe and efficacious cosmetic procedures that have the potential to reverse the ageing process through the mitigation of visible indications of ageing. While B-tox can assist you with the reduction and elimination of fine lines and wrinkles, fillers can be used to enhance and add depth to your specific facial features (Hulett; Mayo Clinic, 2023). By understanding the differences, this can help you get an idea of what treatments might work for you and benefit from decisions on a treatment that fits your needs. More importantly, we suggest you consult with qualified professionals to ensure that the decisions you make are in accordance with your specific requirements.
If you have any questions, do not hesitate to contact us.
———————————————
Building : Maneeya Center (
BTS Chitlom Exit 2) Bangkok, Thailand
Open 11 a.m. – 6 p.m. (close on Sunday)
For more information please contact us at Line application/ Call center
LINE: @radiance_clinic or click > https://lin.ee/RuMq4WJ
Call Center: 089-666-4972 or (+66)89-666-4972
IG : https://instagram.com/radiance.skin.clinic…
———————————————
References
Cleveland Clinic. (2023, October 4). What's the difference between B-tox and facial fillers?https://health.clevelandclinic.org/whats-the-difference-between-facial-fillers-and-b-tox/
Grant, J. R. (2017, November 22). The benefits of combining b-tox and dermal fillers: Dr. Jonathan Grant. Cascade Facial Surgery and Aesthetics Mt. Vernon. https://www.cascadeface.com/benefits-combining-b-tox-dermal-fillers/#:~:text=Combining%20B-tox%C2%AE%20and%20dermal%20fillers%20is%20beneficial%20because%20they,the%20face%20is%20at%20rest
Hullett, A. (2023, April 24). Dermal fillers: Purpose, procedure, recovery, effectiveness, risks. Healthline. https://www.healthline.com/health/dermal-fillers
Isaac, M. (2023, January 10). The best dermal filler brands for youthful-looking, volumized skin. MI Skin Dermatology Center: Melda Isaac, MD. https://www.mi-skin.com/blog/the-best-dermal-filler-brands-for-youthful-looking-volumized-skin/
LT Men's Clinic. (2023, May 22). The differences between B-tox and fillers: Which one is right for you?https://ltmensclinic.com/the-differences-between-b-tox-and-fillers-which-one-is-right-for-you/
Mayo Clinic. (2023, March 10). B-tox injections. https://www.mayoclinic.org/tests-procedures/b-tox/about/pac-20384658
Sheen, D., & Clarkson, E. (2020). B-tox and dermal fillers. Dental Clinics of North America, 64(2), 325–339. https://doi.org/10.1016/j.cden.2019.12.002
St. James, S. (2023, October 5). B-tox vs fillers: Key differences. Metropolitan Skin Clinic. https://metropolitanskinclinic.com/blog/b-tox-vs-dermal-fillers-whats-the-difference/
Yale Medicine. (2022, June 30). B-tox and dermal fillers. https://www.yalemedicine.org/conditions/b-tox-and-dermal-fillers